TransDimensional Systems With Michelle Freed
Buy tickets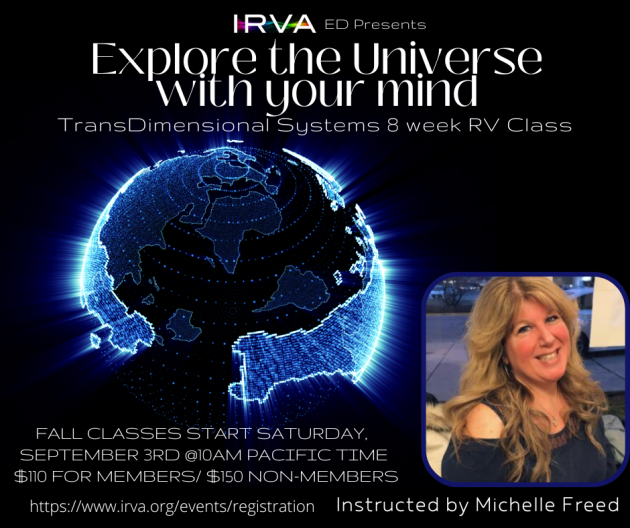 "My goal is for remote viewing to be used as part of our everyday lives. Most of the things I learned from this process I can apply to my everyday life. This is what I hope for my students."
As you may already know, Remote Viewing is an intuitive based practice that involves utilizing a set of approaches, methods, and theories for the purpose of gaining information not otherwise accessible in the physical world.
What is different about this method, which is a variation of TDS, Trans-Dimensional Systems, is we focus on getting our "butts out of our seats"! We found that when we become aware of our mind and body connection and focus on how things feel in our body, we will collect much better and reliable data. Each class is designed to be interactive and experiential. We will start off with a short explanation and loads of fun exercises as well as working on a target in class.
The remote viewing classes are taught via webinar on Zoom.
By the end of class, you will have viewed numerous targets and will be proficient in the basic RV protocol and ready to start working on operational targets.
Instructor's Bio:

Michelle Freed is a graduate of the Alternative Practitioner Academy and received certification from the National Guild of Hypnotism. She completed the beginning, intermediate, and advanced training programs through the International School of Clairvoyance, where she learned to integrate her intuitive gifts with her hypnosis skills.
Michelle is a talented remote viewer and remote viewing instructor. Fully-certified in all forms of Controlled Remote Viewing, She completed the beginning through advanced training programs through Right Hemisphere, Intuitive Specialists, APP, and received additional training from Joe McMoneagle.
Michelle is a member of IRVA (International Remote Viewing Association) and along with her co-researcher with Debra Lynne Katz, PhD received the Warcollier Prize in 2017. She has research related to Remote Viewing and Parapsychology Published with The Journal of Psychical Research, The Parapsychology Association, and Eight Martinis Magazine. Michelle works on special remote viewing projects with Julia Mossbridge, PhD @IONS (Institute of Noetic Sciences) and is currently teaching a 6 week Remote Viewing Class.
Michelle is in the Documentary Third Eye Spies and appears in an episode of Ancient Aliens.
Michelle is the former producer for Art Bell's Show, and currently co-owner of the new Midnight.fm Network and producer for the Midnight Society Radio Show with Tim Weisberg. She is also the owner and publicist of LITM Media Inc.